The documents below are available to provide ideas and principles around public engagement.
What is "Open Dialogue" and is it a solution to post-fact populism? The Open Government Papers, Vol. 2
by Don Lenihan
This is the second in The Open Government Papers series by Don Lenihan. To read volume one, click here. "An important paper that convincingly sets up open dialogue as the most effective answer to populism. A must-read for policy-makers who want governments to make better decisions." – Graham Fox, IRPP
The Rise of Civil Analytics: How Big Data is About to Explode Policymaking As We Know It
by Don Lenihan and Tom Pitfield
How Big Data is about to Explode Policymaking as We Know It is the first of a series of papers Canada 2020 will release on data and policymaking. In it, Tom Pitfield and Don Lenihan explain the shifts that will occur thanks to massive amounts of high quality data and a new capacity for data analytics.
Open Government in Transition
by Don Lenihan
Canada 2020's Senior Associate Don Lenihan is holding a cross-country consultation to identify and examine innovative initiatives where federal, provincial, or territorial governments are successfully leveraging Open Data through Open Dialogue to achieve Open Government's goals.
Ontario Condo Act review
by Public Policy Forum
Ontario's Condominium Act, 1998, came into effect over a decade ago. Since then, the province's condo sector has experienced remarkable growth and change. Condos now account for half of all new homes built in Ontario, and about 1.3 million Ontarians call a condo home. As the sector has expanded, it has also become more complex. Recognizing the need to update the legislation, Ontario's Ministry of Consumer Services has asked Canada's Public Policy Forum to lead an innovative, three-phase public engagement exercise that will inform the review of the Condominium Act. We have published the Stage One Findings Report, the Stage Two Solutions Report and A Case Study of Ontario's Condominium Act Review (by Don Lenihan).
Healing Through Collaboration: A Case Study of the Nunavut Poverty Reduction Process
by Don Lenihan
This study looks at the Government of Nunavut's Poverty Reduction process, a remarkable, year-long process that engaged some 800 of Nunavut's 33,000 people, across the territory. The process resulted in recommendations in eight key areas, including the creation of a new kind of collaborative organization to lead community engagement on poverty reduction.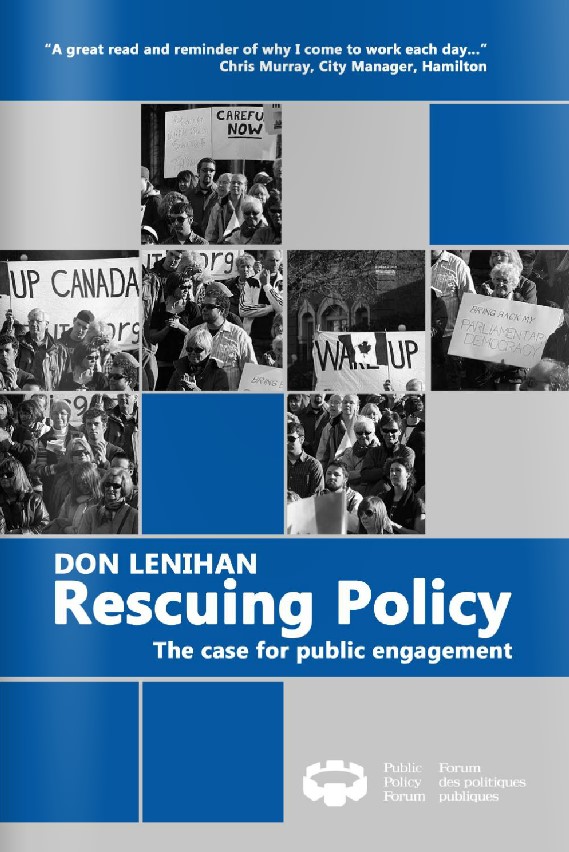 Rescuing Policy: The Case for Public Engagement
by Don Lenihan
The book is an authoritative and accessible guide to collaborative policy-making and the engagement processes that support it. With original case studies, this book will be of interest to students of government and governance from across the policy community.
Building a Strategic Design Capacity for Co-Design
by Don Lenihan
This paper serves as the final report on the Australian Government's Co-Design Community Engagement Prototype, a project that involved the federal government, the State of Victoria, 9 communities in Victoria, community service providers and residents, in 9 separate dialogue processes aimed at aligning services.
Collaborative Federalism: How Labour Mobility and Foreign Qualification Recognition are Changing Canada's Intergovernmental Landscape
by Don Lenihan
This case study explores how internal labour mobility and foreign qualifications recognition shape the experience of immigrants in the Canadian labour market and reshape Canadian federalism.
Community-Building Through Sport: Final Report of the Community Perspectives Project
by Don Lenihan and James McLean
This roundtable series, which was part of the Canadian Sport Policy Renewal Process, brought together federal, provincial and municipal officials as well as sport and community leaders to determine whether a policy framework could be created that includes community-building but leaves the core business of sport unchanged.
Co-Design: Toward a New Service Vision for Australia?
by Don Lenihan and Lynelle Briggs
The article, co-written by Don Lenihan and the former CEO of Medicare Australia, Lynelle Briggs, begins by examining the evolution of service delivery in Canada and Australia. It goes on to consider and compare the Forum's work on public engagement and Medicare Australia's work on co-design and how these may be leading to a new approach to service delivery in Australia.
Rethinking the Public Policy Process: A Public Engagement Framework
by Don Lenihan
Working with 9 provincial and territorial governments through the Public Engagement Project, the Forum developed a Framework Paper that explains what public engagement processes are, why we need them, how they work, and some of the special issues, challenges and opportunities they pose for governments.
It's More Than Talk: Final Report of the New Brunswick Public Engagement Initiative
by Don Lenihan
This report summarizes the findings of the Forum's pilot projects on public enagagement in the Province of New Brunswick.